What We Do
Image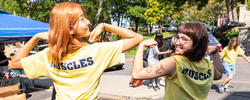 Composed of full-time staff and peer leaders, the Residence Life team is available to help you 24/7. Get to know us and what we do below.

Residence Life staff work together to provide an inclusive environment of learning and transformation. We emphasize knowledge of and care for self, active community engagement and social justice, aiming to encourage your personal and creative development.
In addition to experienced full-time staff, our team also includes student staff members in the roles of either resident advisor (RA) or advocate for inclusion in residence (AIR). RAs and AIRs are supervised by community coordinators—live-in professional staff members who oversee all aspects of community development and management in a given residential area.
Professional staff
For contact information and to learn more about our team, click the names below. Unless otherwise noted, you can find us at the Residence Life main office at 30 Waterman Street.
Student positions
Resident advisor (RA)
RAs are undergraduate or grad students who live with a group of residents in an assigned community. They create and maintain an inclusive community by building genuine relationships with their area's residents, as well as plan and implement residential programs and community-building activities.
RAs also provide emergency on-call coverage, can respond to emergencies, assist with roommate issues, offer guidance on academic courses and campus resources and help you navigate personal issues.
Advocate for Inclusion in Residence (AIR)
With one per residential area, AIRs are students who work plan and implement educational, social, cultural and personal enrichment programs that promote dialogue, social justice ideals and cultural awareness. They can:
help you navigate issues of identity in your creative work.
assist you with problems in the classroom or within the residence hall.
support you in finding community on campus.
provide educational resources to further your understanding of identity and social justice.
Interested in becoming an RA or AIR? Check this page again in late November–early December, when the 2024–25 student staff/leadership application goes live.
If you have questions, email Zach Raso, our assistant director for community development.
Contact Residence Life
Image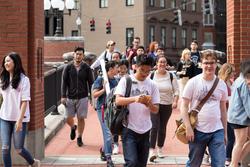 Hours
Mon–Fri: 8:30 am–4:30 pm (main office)
Contact
South Hall, 1st floor
30 Waterman Street
Providence, RI 02903