Academic Support
Image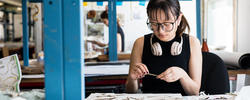 At RISD, each semester, class and project is different from the next, for every student in their own way. Here you will discover a range of resources that will inspire you, help refine your work and ensure equitable learning spaces for all students.
Meet with the student success project manager
Among many forms of support, a student success project manager is available to help build learning plans and connect you with resources that ensure academic success.
Make an appointment