Health and Wellness
Image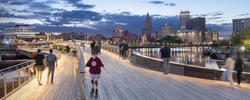 At RISD we are committed to student wellbeing, and are supported in this by a network of dedicated campus partners. Below you can begin exploring the specialized, confidential services we offer in the areas of physical and behavioral health, as well as holistic health education.
Get active at the Student Fitness Center
Located in the first-year quad, the Catanzaro Student Fitness Center (SFC) encompasses several diverse, multi-functional health and fitness spaces, including a weight and cardio room, stretching areas and two studio spaces. Accessible to all students, it is open Mon–Thurs from 8 am–11 pm and Fri–Sun, 9 am–10 pm.
Overseen by the Center for Student Involvement, the SFC also offers extracurricular fitness classes and events focused on physical health and athletics. Before you visit, please take a look at fitness center rules and regulations, and get in touch if you have any questions.
Email the SFC