Dining
Image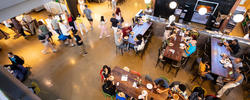 RISD Dining + RISD Caters offer a range of delicious, customizable meal options both on- and off-campus. Our team of talented hospitality and culinary professionals focus on your experience, serving dishes that reflect our community and highlight ingredients sourced from New England.
Check out today's menus at all RISD dining venues
Search "RISD" on the FD MealPlanner site for daily specials and meal service hours for The Met, Portfolio Café and the Jolly Roger.
View menus
Meal plans and other options
In support of the residential experience, dining allotments are included with campus housing—no need to choose a plan.
For off-campus students, the commuter dining plan lets graduate students and those living off campus enjoy the benefits of having a student meal plan. See "off-campus dining plan" below for details.
To help you budget, use our dining points calculator to estimate your suggested weekly balance throughout the current semester.
Community Cupboard
The Community Cupboard is a 100% donation-supported campus food pantry that serves students experiencing food insecurity. It is located in the 3rd floor break room of 20 Washington Place and is open from 8 am–5 pm.
The cupboard is a self-service resource. There is no need to make an appointment—simply stop by and pick up what you need.
Students can also support the Community Cupboard by donating dining points at any RISD Dining venue. Dining will stock shelves with staple items that are in greatest need, such as:
peanut butter
tuna
soups
rice
canned vegetables and beans
To donate, just let your cashier know you would like to give points to the cupboard. You may give one, three or five points per donation up to four times per year.