For Faculty, Staff and Families
If you notice a student who needs your help through an emotional health concern, the Counseling and Psychological Services (CAPS) team is here to support you—whether by connecting you with emergency resources or offering guidance on how to identify, engage with and, when necessary, act on behalf of students in need.
Call our team
Recognizing students in distress
RISD faculty and staff are well positioned to notice students who need support or intervention. But in order to help, you need to know what signs to look for.
We encourage you to familiarize yourself with the indicators listed below so that we can all be there for our student community.
How you can help
Talk to the student in private when you have time and are not rushed or preoccupied. Privacy is key—it can help the student overcome embarrassment and defensiveness.
Listen sensitively and without judgment. Discuss your concerns in terms of what you see and don't offer analysis. An example would be to say "I've noticed you've been absent from class lately and I'm concerned."
Repeat back what the student tells you to show that you understand them. Include both content and feelings in how you respond (i.e., "It sounds like you're not accustomed to our campus and feel left out"). Let the student drive the conversation.
Offer hope and assure the student that help is available. Help them identify options for action and explore possible outcomes.
Set clear, consistent boundaries and expectations. Be honest about the limits of how you can help.
Refer the student to us or a crisis care provider if the problem is more serious than you can handle or if the student still needs assistance after you've done your part.
Need to refer a student to CAPS?
If you know a student in need of non-urgent counseling services, encourage them to schedule an appointment with CAPS by calling 401 454-6637. You may also fill out a CARE report for non-emergencies.
Call us
Contact CAPS
Image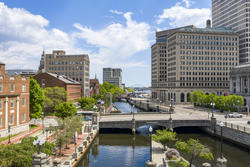 Hours
Mon–Fri: 8:30 am–4:30 pm
Mon (extended hours): 4:30–7 pm
Wed (extended hours): 4:30–8 pm
Contact
72 Pine Street, 2nd floor
Providence, RI 02903