Crisis and Referral Services
If you or someone you know is in crisis—or if you're seeking inpatient or extended behavioral health care—we can help connect you with the services you need. Learn more below.
Off-campus therapy referrals
If you decide—at any point during your time at RISD—that you would like to explore off-campus behavioral health counseling—we can help guide you on that path.
Among several reasons for seeking an outside provider, you might:
want a longterm therapist (beyond a single semester).
need a local medication provider (though CAPS can sometimes manage urgent needs and new prescriptions).
prefer a therapist not affiliated with RISD.
have mental health needs better served by a specialist (e.g., eating disorders, complex trauma or psychosis).
wish to find a practice that offers medication without requiring therapy.
desire a practice that offers integrated primary and mental health care.
If you feel you'd benefit from off-campus care, read below for guidance and some things to consider on your search.
Need more help finding therapy off campus?
For more about finding the right Providence-area provider for you, our step-by-step guide can help you make informed decisions throughout the process.
Download the guide
Contact CAPS
Image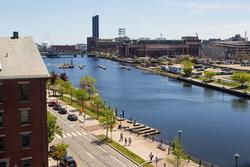 Hours
Mon–Fri: 8:30 am–4:30 pm
Mon (extended hours): 4:30–7 pm
Wed (extended hours): 4:30–8 pm
Contact
72 Pine Street, 2nd floor
Providence, RI 02903