COVID-19
As the Centers for Disease Control and Prevention (CDC) shifts toward the endemic stage of COVID-19, RISD has adjusted our protocols to stay consistent with sustainable health practices. 
Current guidelines are below for students and employees (faculty and staff).
Overview
As of the fall 2023 semester, RISD no longer requires COVID-19 vaccination for students and employees. For the health and safety of our campus, we strongly recommend community members remain up to date on their vaccination, as defined by the CDC. For students and employees, the booster is strongly recommended, but not required.
Anyone interested in getting vaccinated for COVID can receive one at a local pharmacy or attend our vaccination clinics. On-campus vaccine clinics will be scheduled for the fall and open to the entire RISD community. Details will be posted on this page.
RISD remains mask-friendly; any community member opting to wear a mask may do so. If needed, medical-grade masks are available for free at Public Safety's 30 Waterman Street and 15 West offices.
Testing for students
Student Health Services will provide testing for those students seeking care and who are symptomatic for COVID-19. Most insurance will not cover asymptomatic PCR testing.
RISD will continue to provide at-home COVID tests for all RISD students until the supply is depleted. These can be requested at Public Safety.
Notification of positive test (students)
Any student who tests positive for COVID-19, whether on or off campus, must report their positive test to Student Health Services.
Notification of positive test (employees)
Any employee who tests positive for COVID-19 should isolate and discuss with their primary care physician; reporting of positive status to RISD is no longer required. If unable to work remotely, sick days should be used for any COVID-related illness.
Isolation protocol for students
If you receive a positive COVID test you should report it to Health Services at 401 454-6625 during normal business hours. If you receive a positive COVID test after Health Services business hours, you should notify Public Safety at 401 454-6666.
Students who test positive are required to isolate in place per CDC guidelines, whether on or off-campus. RISD no longer provides isolation housing.
For on-campus students, roommate agreements will be made at the start of the fall semester to ensure coverage for both the sick and well students sharing a space should one of them test COVID-19 positive.
Students in isolation will order meals from RISD Dining through the designated app.
Students in isolation may only leave their room for food, the bathroom, and / or medical care; a mask is required for any COVID-positive student who must leave their isolation space for these reasons.
You are expected to discuss your isolation status with faculty and supervisors if you are to miss class time.
Contact Health Services
Image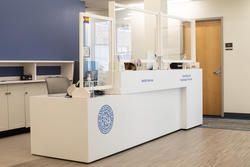 Hours
Mon–Fri: 8 am–4:30 pm
Contact
72 Pine Street, 2nd floor
Providence, RI 02903