Residence Halls
Image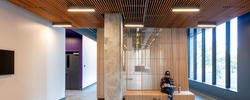 Whether you're in your first year or finishing up at RISD, we offer a variety of housing options for you to get the most from your on-campus experience. Take a look at our video tours and learn more below.
Go to my housing portal
First-year housing
To build a strong foundation at RISD, all first-year students live in a group of buildings known as the first-year area (FYA).
In addition to residence halls, the FYA includes the Public Safety main office, the college's fitness center, the Residence Life office and The Met, our main, all-you-care-to-eat dining facility.
The buildings that make up the FYA—also known as The Quad—are listed below. To see a residence hall's floor plans, just click the corresponding link.
Room types
single room
shared room (double and triple)
Amenities
laundry facilities (machines take risdbucks)
shared kitchen (one per residence hall)
microfridge (combination refrigerator/microwave unit) in each room
work rooms, including spray booths in select residence halls (more information below)
Homer Hall is also home to a meditation/reflection lounge and the Pride Lounge.
North Hall residents please note that, due to the sensitive nature of the hall's heating and air conditioning systems, you must keep windows closed and locked at all times in order to reduce moisture and improve air quality, unless otherwise advised. If you have any temperature concerns, please report them to Facilities Operations. If you need a medical housing accommodation, please follow the medical accommodations process.
Dining
First-year housing also includes the following dining allotment:
unlimited access to The Met, our "all you care to eat" dining facility
225 dining points per semester for use in any RISD Dining venue
five (5) weekly cafe credits for use in most dining venues
three (3) guest meal credits
a one-time $50 RISD Bucks credit (can be used for dining venues and other purchases on campus)
Note that your dining plan is built into the cost of housing and cannot be removed.
Residential experience
Your first year at RISD is an exciting time for making new friendships and exploring what it means to be an art and design student. Throughout the year, we collaborate with Student Affairs to provide a variety of residence hall experiences and programs, exclusively for first-year students. This programming complements the work you do in the classroom and helps you make connections, get involved on campus and learn about available resources.
Our team strives to make your first-year experience fun and full with new traditions, memories and personal growth. Stay on the lookout for emails from us throughout the year to learn about programming.
First-year work rooms
Studio work is integral to a RISD education and the first-year experience. During this time, students complete the college's Experimental and Foundation Studies curriculum together.
To support community development and collaboration outside the classroom, students in first-year residence halls can access a variety of well-equipped work rooms. In these spaces students can draw, paint, sculpt, cut, spray and more.
Work room amenities
All work rooms come with a range of work tables, bulletin boards, seating, sinks and safe disposal receptacles.
The work rooms in North Hall and Nickerson Hall also include spray booths. Students should only use these spaces for work involving aerosol media (e.g. spray adhesive, spray paint, etc.).
Locations and size
All of the work rooms listed below are open to all first-year students. They are:
North Hall, first floor: large with spray booth
Nickerson Hall basement: extra large with spray booth
Homer Hall, second floor: large
East Hall, first floor: medium
Sophomore housing
Sophomore year at RISD is a transitional period for students as they navigate their major degree program. To support this transition, we offer a designated sophomore area. Sophomore residence halls are listed below. To see floor plans, click the corresponding link.
Sophomore residence floor plans
The sophomore area communities provide students with a close-knit, independent living experience. Students living in this area can navigate their new majors together while forging new connections and pathways for success. They also benefit from targeting programs and events that help them develop concrete connections between academic and extracurricular experiences.
All rising sophomores are given priority housing selection to choose rooms in this area.
Room types
15 West Alcove Suites
single
shared double or triple
South Hall
single
shared double, triple or quad
Hill Houses
single
shared double, triple or quad
Amenities
All sophomore housing includes the following for each student:
extra-long twin beds
dressers or closet spaces
desks with desk chairs
a microfridge with microwave
Students living in either single- or group-occupancy rooms in 15 West also share:
a medium-sized refrigerator
kitchen cabinets
electric burner cooking system with ventilation
full bathroom (toilet, sink, shower/tub)
Dining
Sophomore housing also includes the following dining allotment:
unlimited access to The Met
225 dining points per semester for use in any RISD Dining venue
five (5) weekly cafe credits
three (3) guest meals
Note that your dining plan is built into the cost of housing and cannot be removed.
Sophomore residential experience
Living together, sophomores participate in a variety of residence hall programs that provide support and community throughout the year. These programs, aimed exclusively at sophomores, are led by Residence Life professional staff, resident assistants (RAs), advocates for inclusion in residence (AIRs) and partnering teams across campus.
Upperclass housing
Upperclass housing options provide a greater level of independence for juniors, seniors, fifth-year students and graduate students. Comprised primarily of apartments, studios and lofts, these spaces give you access to kitchens as well as a greater level of autonomy over your living space.
Upperclass students who choose to live on campus reside in loft- and apartment style spaces in the following buildings:
See below to learn what room types and amenities each residence space has to offer.
Dining
With the exception of 15 West mini lofts, upperclass apartments come with the following dining allotment:
30 meal swipes at The Met
700 dining points
100 cafe credits
three (3) guest meals
Since the mini lofts in 15 West do not come with the same kitchen amenities as other upperclass apartments, they include the same dining allotment as sophomore-area housing:
unlimited access to The Met
225 dining points
five (5) weekly cafe credits
three (3) guest meals
Dwight House Apartments
Each studio apartment in Dwight House includes the following amenities:
extra-long twin bed
dresser
desk with chair
"closet" space
full kitchen (electric cooktop, medium-size fridge, cabinet storage space)
full bathroom (toilet, sink, shower/tub)
Contact Residence Life
Image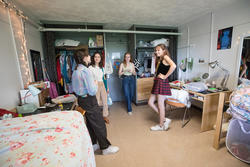 Hours
Mon–Fri: 8:30 am–4:30 pm (main office)
Contact
South Hall, 1st floor
30 Waterman Street
Providence, RI 02903