Off-Campus Living
Image
If you're considering a move off campus, take time to read below for information that will help you make informed decisions about location, property protection and more.
After your sophomore year, you have the option to live off campus if you'd like. For some students, the convenience of living on campus is still ideal, while living off campus might better suit your lifestyle needs.
We encourage you to weigh the pros and cons of living on or campus with your families and friends. To help you in this, below you'll find guidance and resources to ensure you make a well informed decision about where to live during and after your junior year.
Too much stuff to move? Donate to RISD Flips.
Whether you're moving out of the dorms or an apartment, you can donate items to RISD Flips. At the end of each year, this program takes unwanted clothing and other items to help generate scholarship money via an annual summer, support international students and community organizations, and lessen RISD's environmental impact.
RISD Flips takes lightly used clothes, shoes and accessories, art supplies, clean kitchen items and anything else that helps raise funds and support new students.
Email RISD Flips
Contact Residence Life
Image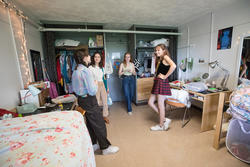 Hours
Mon–Fri: 8:30 am–4:30 pm (main office)
Contact
South Hall, 1st floor
30 Waterman Street
Providence, RI 02903