Student Employment
Image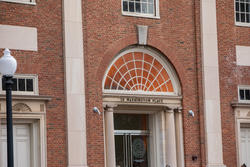 Hours
Mon–Fri, 8:30 am–4:30 pm
Contact
20 Washington Place
First floor
Providence, RI 02903
The Student Employment Office assists students and supervisors in all aspects of on-campus student employment and off-campus federal work study.
The office encourages a connection between students, faculty and staff on campus through meaningful and effective communication in the workplace. We strive to offer all students the opportunity to work with incredible and creative people in order to gain vital experience for building strong portfolios and resumes.
Working while going to school offers you a variety of benefits and allows you to further your learning and creative process outside of the classroom and studio.
Many RISD students—each with different interests and goals— are able to secure jobs that closely align with their academic and artistic focus.
Even when an on-campus position does not at first glance line up with your studies, before long—and with the help of your student supervisor—you will begin making great connections on the job.
In Student Employment we serve students as well as supervisors in the on- and off-campus employment process. Working in a student job lets you build the skills you need to succeed in today's workplace. It is a high-impact, co-curricular activity that is key to your experience at RISD.
Student work supports you in exploring future careers and affirming your path. The skills you gain will make you more competitive when you hit the job market and prepare you for a life of purpose, service and leadership as you pursue creative practice.
Benefits of Student Employment
Earn money to assist with educational and material expenses
Gain work experience and build your resume and portfolio
Expand network of contacts and get to know other students outside of your concentration of study
Enhance skills, such as time-management, to market to future employers
Gain professional development opportunities to prepare you for your career