Housing Portal
Find out how to apply for on-campus housing, select your room, request medical accommodations and more using our convenient, one-stop online resource.
Go to my housing portal
Overview
The housing portal lets incoming and current students complete several RISD housing and residence life processes, including:
applying for on-campus housing
requesting medical housing accommodations
completing dining forms
registering to live off campus (if eligible)
Use your RISD student credentials to log into the housing portal.
To learn about specific portal processes, see below.
On-campus housing application
Incoming and returning students apply for housing and room selection each year via the housing portal. Returning students begin this two-part process in February; for incoming students, the housing selection window opens sometime in early May. See our dates and deadlines listings for current academic year milestones.
The first step is to sign the housing and dining license from within the housing portal ahead of the current year deadline. After submitting your completed license, you will receive a time slot for room selection, the second step in the housing selection process.
Please note that if you do not sign the housing and dining license by the current year deadline, you will not receive a room selection time slot. Instead, you will be assigned a room.
Medical housing accommodations
If you have special or medical needs that should be taken into account during the housing selection process, you should complete a medical accommodation form.
If you need to request an accommodation as part of the room selection process for the coming academic year, do so by the stated date on our dates and deadlines listings. This will ensure full consideration of your request.
For students currently in RISD housing, requests for new or updated accommodations are reviewed monthly. To ensure timely review, submit your request prior to the first of the month.
Documentation guidelines
To accurately and equitably evaluate accommodation requests, you need to submit documentation from a medical professional that outlines the condition requiring housing accommodations. Complete our official medical provider form to the housing portal when submitting your accommodation request. We will not accept other documents in lieu of the official form.
Factors we consider
We carefully review requests and supporting documentation on a case-by-case basis using the criterial below. Be aware that, in certain instances, a member of Student Health Services or Counseling and Psychological Services might follow up with the treating professional.
Severity of condition
ability for student to live in RISD housing with or without accommodations
potentially permanent health impacts or threat to life
importance of accommodation to overall treatment of the condition(s)
impact on academic and/or social experience
Timing of request
In evaluating medical accommodation requests, we take into account whether we receive the request:
prior to the housing accommodation deadline.
as soon as possible after identifying need for accommodation(s).
before or after you receive your housing assignment or a change in diagnosis, etc.
Animal policy
You may be allowed to have an emotional support or service animal in RISD housing facilities if you meet the following criteria:
Since not all campus housing is suitable for animals, we reserve the right to relocate you to properly accommodating housing.
If we approve your request, you will need to submit an animal registration form along with all vaccination records. We permit only one animal per student with approved accommodations, and only one animal per living environment. A relocation will be required if more than one student in a shared space is approved to keep an emotional support or service animal on campus.
Residency waiver
RISD generally requires undergraduate students to live on campus during their first two years of attendance. However, you can request we waive this requirement if you meet one of the following qualifications:
you are married (valid marriage certificate required)
you are 21 years of age or older prior to the start of your first fall semester
you live at home with a parent or legal guardian
If you indicate that you live with a parent or guardian as the basis for a residency waiver, you will need to produce one of the following:
A proof of residency document that includes your parent or guardian's name. This can be:

a copy of your lease
a landlord/leasing company letter (on letterhead) stating that your parent or guardian is the primary tenant
a mortgage statement
a utility bill, property tax statement, home insurance bill, etc.
driver's license

A signed and notarized letter from your legal parent or guardian indicating that you will reside with them while you attend RISD. The letter must include:

the local address where you will live with your legal parent or guardian
your parent/guardian's email address and phone number
Contact Residence Life
Image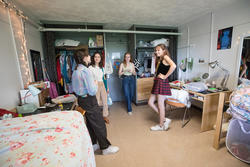 Hours
Mon–Fri: 8:30 am–4:30 pm (main office)
Contact
South Hall, 1st floor
30 Waterman Street
Providence, RI 02903