F-1 Employment
Find out what you need to do to legally work in the US—at RISD and off campus, before and after graduation.
On-campus employment
If you are a RISD student on an F-1 visa, you are eligible to work on campus. To do so, you must:
obtain a US government-issued social security number (SSN). See our F-1 need to knows if you have SSN questions.
meet with Student Employment to complete all necessary employment paperwork.
Note that 20 hours is the maximum number of hours you can work on campus while school is in session. There are no restrictions on the number of hours you can work during academic-year breaks.
Off-campus employment
RISD students on an F-1 visa may work off campus as long as you obtain employment authorization before legally beginning work. There are two types of off-campus employment authorization: curricular practical training (CPT) and optional practical training (OPT). See below for more information about CPT and OPT.
F-1 information for employers
Interested in hiring a RISD international student? See our guide for legal designations, job requirements and other information employers need to know when hiring F-1 visa students.
See our F-1 employers guide
Contact ISSA
Image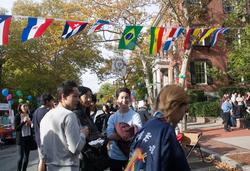 Hours
Mon–Fri: 8:30 am–4:30 pm
Tues drop-in advising hours: 9–10:30 am
Fri drop-in advising hours: 11:30 am–1 pm
Contact
Carr House room 303
210 Benefit Street
Providence, RI 02903