What We Do
Meet the International Student and Scholar Affairs (ISSA) team and learn how we support you throughout your experience as a RISD international student.
In International Student and Scholar Affairs, we support and advocate for RISD's international community by providing advice and guidance to prospective, incoming and current students and scholars, as well as those who have recently graduated or completed their work at RISD.
We are happy to help students and scholars with any questions you may have as you get ready to join our campus community. In particular, we offer advice in the following areas:
F and J immigration compliance
Cultural and language adjustment and transition
Navigating US systems (Social Security, IRS/taxes, Division of Motor Vehicles, etc.)
Our team works to connect you with academic, logistic, social and cultural resources to support your success while studying, researching or teaching at RISD. We feel fortunate to work with people from around the world and for our amazing, global campus community.
Contact ISSA
Image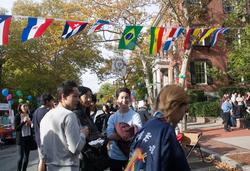 Hours
Mon–Fri: 8:30 am–4:30 pm
Tues drop-in advising: 9–10:30 am
Fri drop-in advising: 11:30 am–1 pm
Contact
Carr House room 303
210 Benefit Street
Providence, RI 02903