Clinical Training Program
Thank you for your interest in the Clinical Training Program at Rhode Island School of Design Counseling and Psychological Services (CAPS). Please look over the information below about our training program and the application process.
If you have questions or would like additional information, feel free to contact our office and/or Associate Director Nicole Nelson, LICSW at nnelso03@risd.edu.
How to apply
To apply to the clinical training program for the fall 2024–spring 2025 academic year, please submit your completed application to Nicole Nelson, LICSW, by Friday, December 29, 2023. We will not accept applications after this date unless you have made prior arrangements. We will contact applicants up for program consideration during the second week of January in order to schedule video interviews.
You should submit the following materials with your application:
a cover letter detailing interest in the position
current curriculum vitae or resume
three (3) professional references
one (1) recommendation letter (preferably a placement supervisor)
Send your materials to:
Nicole Nelson, LICSW
Associate Director
RISD Counseling and Psychological Services
20 Washington Place
Providence, RI, 02903-2784
e: nnelso03@risd.edu
About Rhode Island School of Design
RISD (pronounced "RIZ-dee") is a creative community founded in 1877 in Providence, Rhode Island. Today, we enroll 2,620 students hailing from 59 countries. Led by a committed faculty, they are engaged in 44 full-time bachelor's and master's degree programs and supported by a worldwide network of over 31,000 alumni who demonstrate the vital role artists and designers play in today's society.
Beyond facts and figures, what is the spirit of this community? Through a cross-disciplinary curriculum of studio-based learning and rigorous study in the liberal arts, RISD students are encouraged to develop their own personal creative processes, but they are united by one guiding principle: in order to create, one must question. In cultivating expansive and elastic thinking, RISD seeks to activate a critical exchange that empowers artists, designers and scholars to generate and challenge the ideas that shape our world. RISD's mission, at both the college and museum, is not only to educate students and the public in the creation and appreciation of works of art and design, but to transmit that knowledge and make global contributions.
Contact CAPS
Image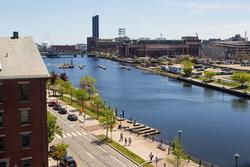 Hours
Mon–Fri: 8:30 am–4:30 pm
Mon (extended hours): 4:30–7 pm
Wed (extended hours): 4:30–8 pm
Contact
72 Pine Street, 2nd floor
Providence, RI 02903