F-1 Information for Employers
If you're an employer with questions about hiring international students, see below for legal designations, hiring guidelines and other important compliance information.
Overview
Practical training is a legal means by which F‐1 students can obtain employment in areas related to their academic field of study. Students, in general, must have completed one academic year (approximately nine months) in F‐1 status and must maintain their F‐1 status to be eligible for practical training.
There are three basic types of practical training, details for which you'll find below.
Contact ISSA
Image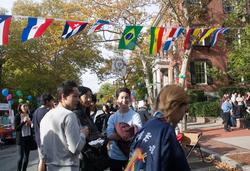 Hours
Mon–Fri: 8:30 am–4:30 pm
Tues drop-in advising hours: 9–10:30 am
Fri drop-in advising hours: 11:30 am–1 pm
Contact
Carr House room 303
210 Benefit Street
Providence, RI 02903